Voice Lessons in Los Angeles and Virtually
Voice Lessons – Overview and General Information
The Hollywood Academy of Music and Arts has been consistently named as the best music school and top program for voice lessons in the Los Angeles area. Our Academy has provided tens of thousands of in-person music and voice lessons to students from Hollywood, West LA, West Hollywood, Culver City, Beverly Hills, Glendale, Pasadena, Sherman Oaks, Studio City, Brentwood, Bel Aire, Pacific Palisades, Malibu, and the surrounding areas. Additionally, we have delivered world-class virtual lessons to students out-of-state and abroad, specifically in China, France, the Cook Islands, Ukraine, Georgia, Germany, Slovenia, Japan, South Korea, and the United Kingdom.
With decades of teaching experience, our voice teachers are personable, engaging, and most importantly – experienced teaching voice to students of all ages and all levels. Whether you are a beginner or an advanced student, the voice instructors at the Hollywood Academy of Music and Arts have you covered.
In addition to receiving a top music school designation from Expertise.com for 2021 and 2022 for Los Angeles and West Hollywood, the Hollywood Academy of Music and Arts has been named as the Top Vocal Studio in Los Angeles County by Distinguished Teaching Magazine.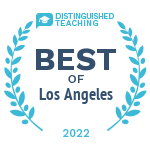 Voice Lessons in Los Angeles for Younger Children
We recommend that students can start voice lessons as young as 5 years old. However, for voice students that are between the ages of 5-8 vocal lessons will typically be a "combination lesson" – which will involve a class that is 15 minutes of piano and music fundamentals and 15 minutes of voice. For students in the 5-8 year old age group, voice lessons will be geared towards simpler repertoire and a goal of instilling love for music; classes for this age group will not involve extremely rigorous vocal technique as children this age are usually not old enough to safely engage in intensive voice technique. Learning the piano in tandem with voice helps young singers improve vocal pitch and gives them a broader understanding of how their singing voice intertwines with music and piano accompaniment. Learning the piano is also an effective tool for improving vocal pitch and ear training. As most parents know – children often begin singing joyfully and naturally before pre-school; lessons for children in the 5-8 year old age group are designed to engage and enhance their musical interests and further develop their passion for singing. In this role, lessons are a great way to help a child socialize, develop love for music, improve self-esteem, and become confident!
If your child is younger than five (5), please check out or two awesome music classes for the very young: the Prodigies Childhood Music Class (private, ages 2+) and Little Folks Rock Band (ages 3.5-7).
Voice Lessons in Los Angeles for Adults and Children (Ages 9+)
For adult students and children ages 9 and above, vocal chords and lung capacity are generally developed enough to safely begin more rigorous traditional voice technique.
As an adult student, you may feel scared or shy to start up voice lessons. However, you will be pleased to know that over 40% of the students taking voice lessons at the Hollywood Academy of Music are adults! Whether you are an actor looking to expand your musical abilities, a software engineer looking for a new hobby, or just want to pick up voice because you took lessons as a child – we are here to help.
In addition to specializing in complete beginners, our faculty of voice teachers with Master's and DMA degrees from the world's leading universities have decades of experience teaching advanced students, including at the university level. No matter what your situation or level is, learning and improving your voice is totally doable as an adult!
Voice lessons at Hollywood Academy of Music and Arts will include a healthy mix of technique and repertoire (learning songs). Private lessons will be customized to the individual student's interests, especially in terms of the songs learned. Lessons will typically include some of the following subjects (depending on student's skill level):
Vocal warm up exercises
Singing scales and arpeggios
Preparing and perfecting vocal repertoire and songs
Understanding and identifying a student's natural vocal range and vocal "break"
Improving vocal pitch / singing in tune
Expanding vocal range
Pronunciation, enunciation and tongue twisters for the voice
Strengthening both the head voice and chest voice
Improving vocal power and strength – safely
Vocal science and anatomy of the voice
Instrumental accompaniment – learning how to sing and play at the same time (generally piano or guitar)
Voice Versatility – students learn how to change their voice to adapt to different musical styles and genres … from musical theatre to rock to classical!
Bonus: students taking voice lessons have complimentary access to our specialized recording studio access, and may use it during class time with their teachers at no additional cost.
Additionally, as an added benefit, the Hollywood Academy of Music offers voice and piano combination lessons, which are available to students of all ages. A voice and piano combination lesson emphasizes a dual focus on both vocal technique and playing the piano as accompaniment – combined into one lesson. The lessons have a heavier emphasis on voice, while also allowing students to learn to accompany themselves. Dual voice/guitar combination lessons are also available.
Special Program – Voice, Songwriting, and Music Composition
If you are interested in learning voice while also composing your own music with the help of our fabulous instructors, you are in the right place! Many of our students, both children and adults, are actively involved in the entertainment industry, and more often than not, being able to showcase your skills with a song of your own really sets you apart from the crowd. As part of our regular voice classes, you may choose to focus on songwriting and write, rehearse, and record your song – all at our facility. Our specialized recording studio access is complimentary to all current students, and you may use it during class time with your teacher for no additional cost. As an added bonus, all songs created during your classes and recorded at our facility are owned fully by you – the student. So, if you are interested in creating your own music, feel free to reach out and register for voice lessons with a special emphasis on songwriting and music composition.
Learn More About Our Voice Instructors
As a premier music academy in Los Angeles, a single opening for a voice teacher at our Los Angeles campus generally receives over a hundred applications from top voice teachers in Los Angeles and surrounding areas. We take our hiring process extremely seriously and screen each teacher for the following qualities:
World-class education from the world's finest music schools, programs, and universities (Juilliard, UCLA, USC Thornton School of Music, Moscow P.I. Tchaikovsky Conservatory, Berklee College of Music, the Royal Conservatory of London)
Real-world performing experience
Positive and engaging personality
Ability to create custom plans and goals for students of all ages and levels
Our voice instructors are ready to help you reach your goals, whether they are to develop your technique, receive a full-ride scholarship as a music major to a top university, or simply improve your vocal chops for your upcoming karaoke night!
Why You Should Choose the Hollywood Academy of Music for Voice Classes in Los Angeles
Premier Music Academy Serving Los Angeles Since 2004
Month-to-Month Lessons and No Contracts
Convenient Scheduling Options on Weekdays and Weekdays
Comfortable Waiting Area and Garden-Style Patio with Complimentary WiFi
Rehearsal Spaces for Students to Record Performances and Practice
Complimentary Use of On-Premises Recording Studio for Students
Educated and Experienced Faculty with 18+ Dedicated Teachers
Month-to-Month Lessons and No Contracts
Frequent Recitals and Performance Opportunities
Private Make Ups

Unlike most schools, we provide private make ups, rather than having students attend group classes in lieu of missed classes
Frequently Asked Questions about Voice Lessons
1. At what age should a child start voice lessons?
Usually, the recommended age to start voice is six (5) and up. Students ages 4 and below are highly encouraged to enroll in our Little Folks Rock Band, which allows students to fall in love with music and develop their fundamentals in an engaging and fun way. The benefits of taking music and voice lessons as a child are numerous, including cognitive development, improved memory, and social benefits. Music has been scientifically proven to improve academic results, mental health, and self-esteem, all while providing children with a life-long passion.
2. Am I too old to start voice lessons?
Our oldest voice student was 65. You are never too old to learn as long as you are motivated and put in the effort. Our caring teachers are here to support and guide you on the wonderful journey of learning music. Adults learning music can gain a life-long passion, meet new people, and improve their confidence and self-esteem. For adult students, our teachers are not just there to teach – they are also mentors who can help you conquer your fears. We see our adult students partake in their first open mics and give their first recitals on a daily basis. Music is an inspiration, no matter your level and age!
3. How long will it take to improve?
Music is like sports, and to reach the highest levels, long-term commitment is required. However, not everyone is here to become a professional musician. Generally, for with voice lessons, you will begin seeing improvement within several weeks of taking lessons and consistent practice. With time, you will see improvement in your musicality, technique, lung capacity, pitch, rhythm, and understanding of the fundamentals of music theory.
4. I do not have space to practice. What should I do?
We are not just a music academy providing the best music lessons – we are a community! Because of this, we offer practice space to those students who cannot practice at home due to noise concerns.
5. Are voice lessons customized to my goals?
Yes, all voice lessons are customized and tailored to your goals. For complete beginners, you can expect to spend the first few weeks covering fundamentals, improving your basic technique and learning new concepts by dissecting songs and pieces you would like to work on. If you do not have any in mind or are a beginner, you will usually choose a song with your teacher and begin working on it right during your first class. If we are being honest, we are not fans of stock YouTube backing tracks and are firm believers that having live accompaniment will help students become better in the long term. Due to this, all of our teachers will accompany you during every class (in the key that works for your range), rather than relying on stock "karaoke" tracks on YouTube.
Need a More Comprehensive Guide for Voice Lessons and Other Music Classes?
View our Piano Guide for Students: 10 Important Tips to Make the Most Out of Piano Lessons
View our Guitar Guide for Students: 10 Important Tips to Make the Most Out of Guitar Lessons
View our Ukulele Guide for Students: 10 Important Tips to Make the Most Out of Ukulele Lessons
View our Violin Guide for Students: 10 Important Tips to Make the Most Out of Violin Lessons
View our Voice Guide for Students: 10 Important Tips to Make the Most Out of Voice and Singing Lessons
51 Tips to Make the Most Out of Music Lessons –

All Guides by the © Hollywood Academy of Music and Arts – for personal use only
Interested in Other Music Lessons and Programs?
We offer the following programs:
For a complete list of available music programs and lessons, please click here.
Questions?