See Our Piano Students in Action
Piano Lessons in Los Angeles and Virtually
---
Piano Lessons – Overview and General Information
The Hollywood Academy of Music and Arts has been consistently named as the best music school and top program for piano lessons in the Los Angeles area. Our Academy has provided tens of thousands of in-person music and piano lessons to students from Hollywood, West LA, West Hollywood, Culver City, Beverly Hills, Glendale, Pasadena, Sherman Oaks, Studio City, Brentwood, Bel Aire, Pacific Palisades, Malibu, and the surrounding areas. Additionally, we have delivered world-class virtual lessons to students out-of-state and abroad, specifically in China, France, the Cook Islands, Ukraine, Georgia, Germany, Slovenia, Japan, South Korea, and the United Kingdom.
With decades of teaching experience, our piano teachers are personable, engaging, and most importantly – experienced teaching piano to students of all ages and all levels. Whether you are a beginner or an advanced graduate student, the piano instructors at the Hollywood Academy of Music and Arts have you covered.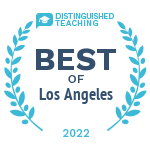 Piano Lessons in Los Angeles for Children (Ages 4+)
Our instructors have decades of experience teaching complete beginners and guiding them through the fundamentals of music and piano, including music theory, sight reading, and ear training with an end goal of guiding them through to an advanced level. If interested, our Piano Honors Program provides students with the ability to take piano lessons twice-a-week, as well as prepare for the Music Teachers' Association of California (MTAC) Exams. MTAC CM Exams are optional and preparation is free for Honors students.
We recommend students start piano lessons at the age of four (4) and up. The piano is a wonderful instrument to start young children (and adult beginners) on for several reasons:
(a) it's not as physically demanding to play as most other instruments which makes it more fun and less frustrating for beginners
(b) the linear nature of the piano makes it easier to understand this instrument than many others
(c) playing the piano tends to give students a good general musical foundation
(d) learning the piano helps students more easily acquire knowledge about music theory
(e) the piano can easily be used to accompany the voice and any other instrument
(f) the piano doesn't require frequent tuning, changing of strings or constant maintenance.
Piano is also a highly recommended alternate choice as a starter for children who are too young to begin lessons on their preferred instrument (i.e. guitar, bass, saxophone, trumpet, etc.). Learning the piano provides such a great musical foundation for students that it will usually help a beginning student transition with much greater ease to another instrument at a later time.
If your child is younger than four (4), please check out or two awesome music classes for the very young: the Prodigies Childhood Music Class (private, ages 2+) and Little Folks Rock Band (ages 3.5-7).
Piano Lessons in Los Angeles for Adults
As an adult student, you may feel scared or shy to start up piano lessons. However, you will be pleased to know that over 40% of the students taking piano lessons at the Hollywood Academy of Music are adults! Whether you are an actor looking to expand your musical abilities, a software engineer looking for a new hobby, or just want to pick up piano because you took lessons as a child – we are here to help.
In addition to specializing in complete beginners, our faculty of piano teachers with Master's and DMA degrees from the world's leading universities have decades of experience teaching advanced students, including at the university level. No matter what your situation or level is, learning the piano is totally doable as an adult!
Learn More About Our Piano Instructors
As a premier music academy in Los Angeles, a single opening for a piano teacher at our Los Angeles campus generally receives over a hundred applications from top piano teachers in Los Angeles and surrounding areas. We take our hiring process extremely seriously and screen each teacher for the following qualities:
World-class education from the world's finest music schools, programs, and universities (Juilliard, UCLA, USC Thornton School of Music, Moscow P.I. Tchaikovsky Conservatory, Berklee College of Music, the Royal Conservatory of London)
Real-world performing experience
Positive and engaging personality
Ability to create custom plans and goals for students of all ages and levels
Our instructors are ready to help you reach your goals, whether they are to learn to accompany yourself on the piano or to receive a full-ride scholarship as a music major to a top university!
Why You Should Choose the Hollywood Academy of Music for Piano Classes in Los Angeles
Premier Music Academy Serving Los Angeles Since 2004
Month-to-Month Lessons and No Contracts
Convenient Scheduling Options on Weekdays and Weekdays
Comfortable Waiting Area and Garden-Style Patio with Complimentary WiFi
Rehearsal Spaces for Students to Record Performances and Practice
Complimentary Use of On-Premises Recording Studio for Students
Educated and Experienced Faculty with 18+ Dedicated Teachers
Month-to-Month Lessons and No Contracts
Frequent Recitals and Performance Opportunities
Private Make Ups

Unlike most schools, we provide private make ups, rather than having students attend group classes in lieu of missed classes
Frequently Asked Questions about Piano Lessons
1. At what age should a child start piano lessons?
Usually, the recommended age to start piano is four (4) and up. Students younger than four (4) are encouraged to enroll in our private Early Childhood Music Classes which focus on teaching music fundamentals in a game-like and fun environment. The benefits of taking piano lessons as a child are numerous, including cognitive development, improved memory, and social benefits. Music has been scientifically proven to improve academic results, mental health, and self-esteem, all while providing children with a life-long passion.
2. Am I too old to start piano lessons?
Our oldest piano student was 93. You are never too old to learn as long as you are motivated and put in the effort. Our caring teachers are here to support and guide you on the wonderful journey of learning music. Adults learning music can gain a life-long passion, meet new people, and improve their confidence and self-esteem. For adult students, our teachers are not just there to teach – they are also mentors who can help you conquer your fears. We see our adult students partake in their first open mics and give their first recitals on a daily basis. Music is an inspiration, no matter your level and age!
3. How long will it take to learn the piano?
Music is like sports, and to reach the highest levels, long-term commitment is required. However, not everyone is here to become a professional musician. Generally, for easier-level songs, you can expect progress in just a few months of piano lessons. With time, you will see improvement in your musicality, technique, sight reading, and understanding of music theory.
4. I do not have space to practice. What should I do?
We are not just a music academy providing the best music lessons – we are a community! Because of this, we offer practice space to those students who cannot practice at home due to noise concerns.
5. Are piano lessons customized to my goals?
Yes, all piano lessons are customized and tailored to your goals. For complete beginners, you can expect to spend the first few weeks covering fundamentals (hand positioning, basic sight reading). The pieces you play will include a combination of specialized repertoire aimed at improving your technique along with pieces you would like to work on. If you do not have any in mind or are a beginner, you will usually play duets with your teacher, which are not only engaging and fun, but will offer you the opportunity to practice your coordination and rhythmic skills!
Need a More Comprehensive Guide for Piano Lessons and Other Music Classes?
View our Piano Guide for Students: 10 Important Tips to Make the Most Out of Piano Lessons
View our Guitar Guide for Students: 10 Important Tips to Make the Most Out of Guitar Lessons
View our Ukulele Guide for Students: 10 Important Tips to Make the Most Out of Ukulele Lessons
View our Violin Guide for Students: 10 Important Tips to Make the Most Out of Violin Lessons
View our Voice Guide for Students: 10 Important Tips to Make the Most Out of Voice and Singing Lessons
51 Tips to Make the Most Out of Music Lessons –

All Guides by the © Hollywood Academy of Music and Arts – for personal use only
Interested in Other Music Lessons and Programs?
We offer the following programs:
For a complete list of available music programs and lessons, please click here.
Voice and Piano Combination Lessons
As noted on our Voice Lessons page, our voice instructors offer voice and piano combination lessons, which are available to both children and adults. A voice and piano combination lesson emphasizes a dual focus on both vocal technique and playing the piano – combined into one lesson. Part of the lesson will often be focused on teaching students how to sing and play with piano accompaniment at the same time. For very young children, a voice and piano combination lesson is recommended instead of a full lesson of voice, as a younger child's vocal chords and lung capacity are not usually developed enough to endure rigorous vocal technique.
Questions?